Lifestyle
It's a wonderfully, sweet day because it's National Donut Day! Who doesn't love those delectable baked goods that are dipped in sugar, glazed with sprinkles, or baked to a "healthier" perfection?? I exercise just to indulge every once in a while….because yes, I'm human.
Here's a fun post to make all of us donut enthusiasts cheer!
For those who sew, check out these colorful fabric weights. These look soooo edible,
but they are not (warning!!)
:
Remember when I mentioned exercise just to eat a donut every now and then?? This shirt is
perfect
for me:
Want a conversation starter or to show-off a funky earring? This is just the jewelry for you!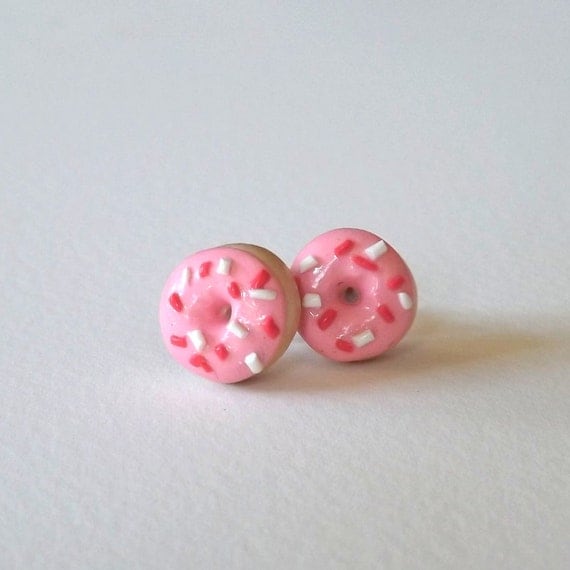 Pink Donut Earrings by PitterPatterPolymer via Etsy.com
A lot of customers are saying goodbye to the traditional wedding cake and opting for a more "portable" dessert for guests. Donuts are a cute and flavorful option! They can be customized with flavors, colors, and shapes to suit any bride & groom. These pretty favor bags will be great for guests to carry any leftovers home (if there are any):
Last, but not least, we must give an exciting mention to our local donut shop. I've had the pleasure of tasting several different kinds of donuts at B. Donut (located in downtown Leesburg). Living just 4 short miles away from this gem has been difficult…it's a major temptation to not visit the place every day they are open. This is a
MUST
try if you're in the NOVA area!
You may have noticed we featured many artists and shops from Etsy.com. We LOVE this online retailer and truly support the owners. Although we do not endorse any products, we most certainly wanted to give mention to the many Donut-Friendly
products available for this day.
Enjoy,
Senta